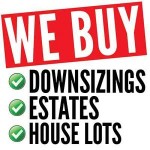 Southern Pride Antiques is Western North Carolina's premier estate buying company. We have over 30 years experience in the business, and will come to your location to make the process easy as possible. We have extensive knowledge in the field of antiques, jewelry, artifacts, gemstones, and much more. If you have items of value we will be able to identify them for you, and make you a fair offer for them. Whether you are looking to sell a handful of items, or liquidate your entire estate Southern Pride Antiques can help you accomplish this. We will buy out the entire estate if this is what you seek, and we have the manpower and tools to move out furniture etc. We will pay the day of with cash or you preferred method of payment, and we pay better than anyone else in this business. If you are looking to clean out an old barn or storage building we will buy these as well. In other words if you do not feel like taking the time to sell each of your items individually, and want to make the process easier we will buy it all at once. Are you ready to sell your estate? Well its as easy as calling or emailing us with your information, and we will schedule an appointment to meet with you. You can also come in and visit us at Southern Pride Antiques at 1750 Startown Rd in Hickory,NC.
How quickly can you be here to evaluate my estate and make me a cash offer?!?!
Several factors can come into play which can effect our response time:
-How well you describe the items you have (photos, information)
-Depending on the location you live (we are located in Hickory,NC but are willing to travel)
-How ready are you to sell the items in your estate? We realize sometimes its hard to part with memories, but we will make you as fair an appraisal as possible and let you decide.
CALL US TODAY AT (828) 855-1850 AND WE CAN GET STARTED!!!!